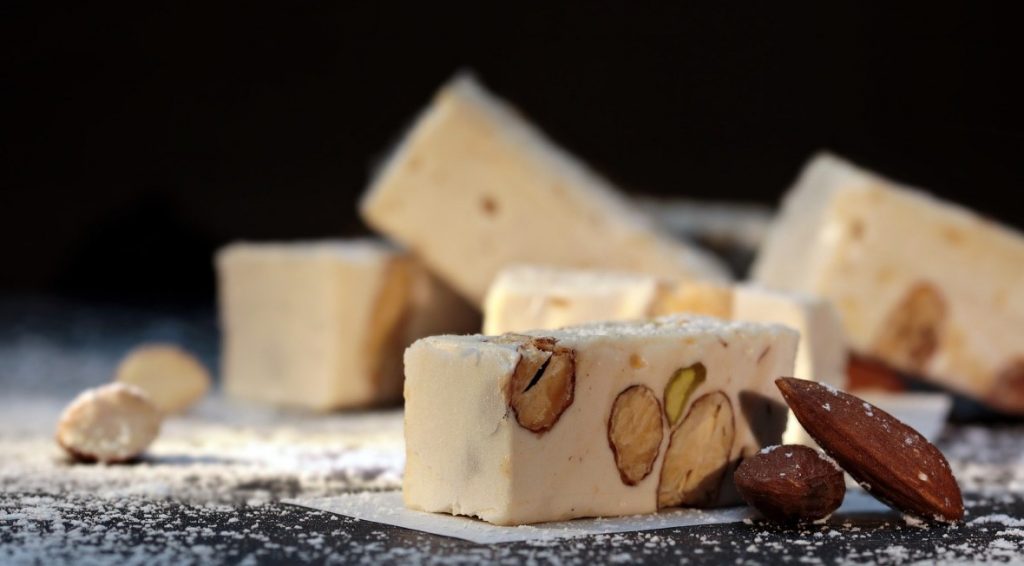 Decoding Nougat and its variants with ready tips on a homemade sweet treat
The unsung hero in all your confectioneries delightfully tantalizing your taste buds with sugary goodness. It is one of the most essential yet underrated components of a baker's creation. Nougat has been a part of all the delicious goodness that you have been savoring since your childhood. You might identify it as the soft chewy goodness sandwiched between the layers of caramel and chocolate in the most famous candy bars such as snickers, mars, Milkyway and much more, which you have been devouring forever.
What is Nougat?
The classic nougat is a simple sugar confection made from egg whites whipped to stiff peaks combined with nuts( generally almonds, pistachios, or hazelnuts), and honey together. The nougat in candy bars typically substitutes egg whites with gelatin or soy protein and replaces sugar with corn syrup.
Bakehoney trivia:  One of the world's oldest candies, nougat was baked on open fires by the Greeks. The basic recipe comprises boiling sugar and honey syrup whisked into egg whites, with nuts or dried fruits added for texture and flavor. Nougat is relished all over the world today, from the Italian torrone to French nougat to Iranian gaz.
If you are a dessert fanatic like most of us, then you would probably be craving this delicious treat already. Let us decode nougat further.
How versatile is the nougat?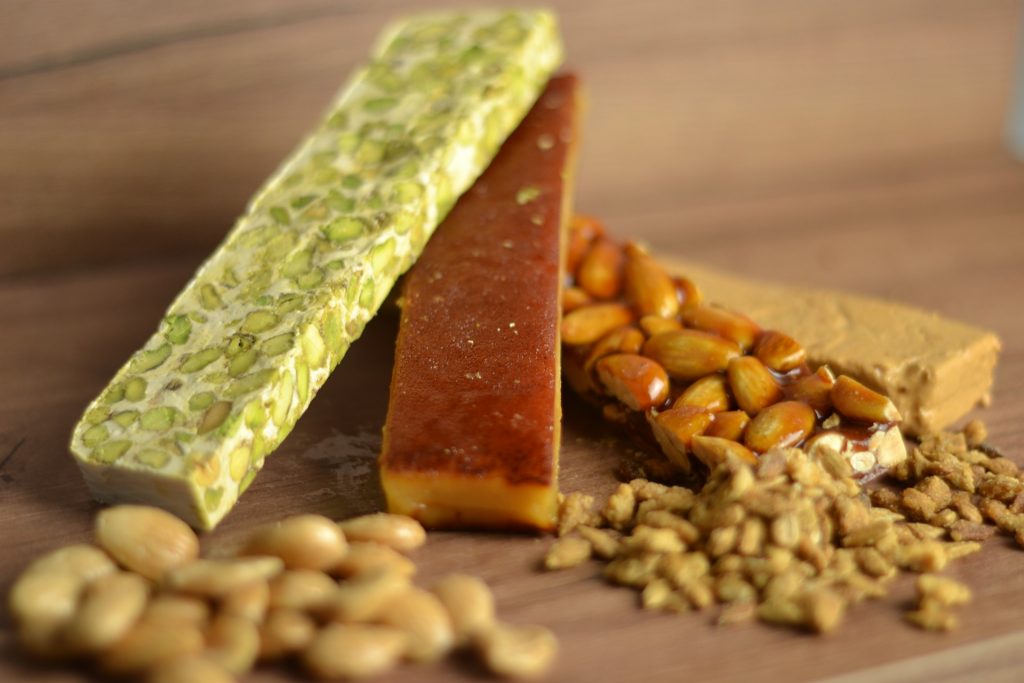 - Lip-smacking treat to that tastes great with your everyday cup of joyor as a delectable snack that everyone wants the recipe for at your high tea.
- An all-natural snack that has no artificial flavorings, trans fats or food dyes!
- It can be gifted to your family and friends during all those festive occasions.
- Garnish your cakes and pastries or add oomph to your plated desserts with this artful confectionery.
Can I make nougat at home?
Yes. It is as effortless as it was in the old days. check out this simple recipe of a nutty nougat and make it your way.
 - Egg whites whipped to firm peaks
 - sweetened with sugar and real honey,
 - Almonds and real pistachios added for crunch,
 - Flavored with real vanilla, coffee, chocolate.
Mix the ingredients, freeze overnight and cut into tiny pieces. There is some basic kitchen equipment such as a baking thermometer and a hand mixer that will aid the process of making this recipe. You do have to be meticulous in getting all the measurements and temperatures correct. But that is the basics of baking any dessert else you end up making some common mistake
What about the vegetarians and vegans out there?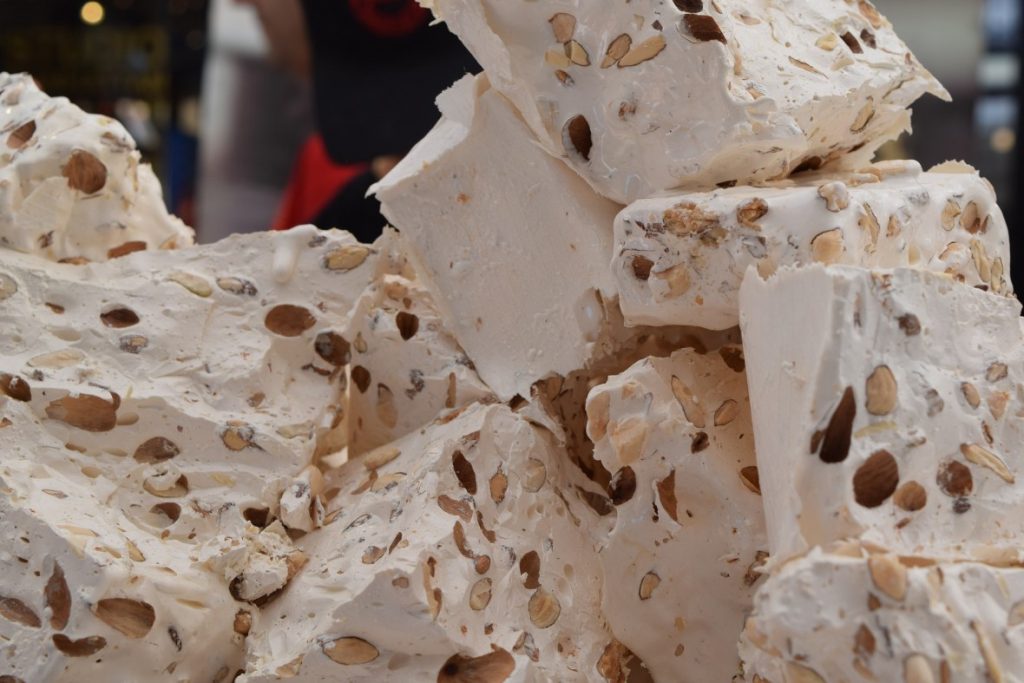 There is an egg-free alternative available that uses canned chickpeas to substitute the eggs. This not only makes it vegetarian but also a Vegan-friendly option.
Or you could skip the hassle altogether. The nougat noir variant which comprises 4 ingredients and few simple steps. It is, also known as nougatine and is crunchier compared to the classic nougat blandbut. It makes for a tasty treat that can be made more indulgent by dipping it into molten chocolate. You can grind it into smaller crumbs and sprinkle it over a cupcake, ice cream or fruit compote.
What if I am allergic to nuts?

We have got you covered for that. Just replace the nuts in the recipe with cranberries, prunes, raisins or any other dried fruits of your choice.
This seems rather unhealthy. Is there any way to tailor it to the needs of the calorie conscious people?
- Made from egg whites and nuts nougat is densely packed with protein and healthy fats.
- Low in sugar, low in cholesterol and low in saturated fat and lower in price compared to the protein bars out there makes nougat an ideal alternative already.
But this can be made even healthier:
 - This 6 ingredient delight can be made guilt-free by replacing the sugar with agave nectar.
-  You can add to the nutritional value by adding sunflower and pumpkin seeds to the mix along with dry fruits.
What is the shelf-life of a homemade nougat?
The preservative-free nougat will stay fresh in an airtight container kept in a cool, dry place for up to 2 weeks.
Ever thought of nougats as a gifting option for your near and dear ones?
With minimal effort, you can wrap bars of nougat in the raw form and gift them. The exposed nuts seen through the egg whites look appealing by themselves, making them an ideal gifting option that can compete with any store bought mithai.
If you want to go an extra mile to make it fancier,can dip small pieces of nougat candies in the molten chocolate of your preference. Further up your game by garnishing it with freeze-dried fruits or sea salt. Or maybe just relax and buy a 5-Star? ?
You can even make them in the classic candy bar way by layering it with caramel and chocolate or go for a full sugar rush by completely coating it with chocolate.Nougat is a perfect reflection of who you are and can be customized to your taste. The possibilities are endless. Let us head to the kitchen and whip up this tasty treat already!