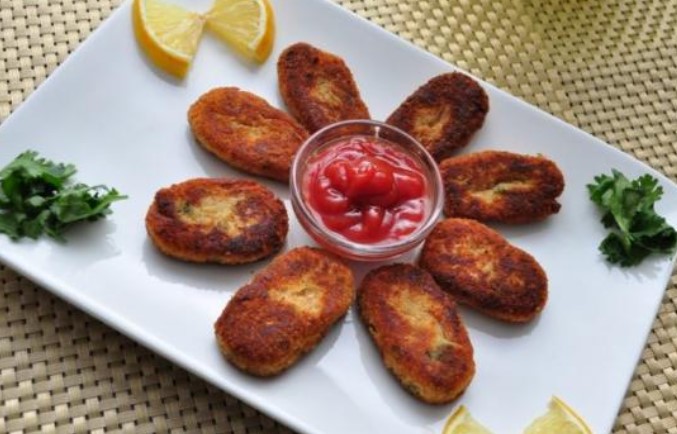 Why let your taste buds compromise while you fast during Navratri? Enjoy the taste of Dahi ke Kebab and the health of baked delicacy to enjoy your festivities
our #2 Navratri recipe for this year, Dahi ke Kebab!
One of the most classic and well-known snacks is the Dahi ke Kebab. It is most common among the North Indian vegetarians. It has a creamy and light texture with a crispy coating. Though Dahi ke Kebabs are well spiced, they also have a slightly sweet taste- thanks to the curd in it. Usually, Dahi ke kebabs are fried, but they can be baked to give it a healthy twist and yummy taste - and be fast friendly too!
Fast Friendly Dahi ke kebab
Since we want this to fit the fasting menu we cannot use breadcrumbs or Rava for coating (as usually done). How about coating it with sago or commonly called as Sabudana. Yes, this gives a beautiful coating and also can be used as a binding agent. This is a dish for all seasons. It's crispy on the outside and creamy inside.
Total serving - 8-10 kebabs
Ingredients
Curd - 1 cup
Ginger - 1 tsp(grated)
Green chillies - 1 no.
Sago or Sabudana - 1 cup
Salt - as required
Red chilli powder - 2 tsp
Coriander powder - 1½ tsp
Jeera or Cumin powder 2 tsp
Coriander leaves - ½ tsp (chopped)
Ratios are critical here as any change might lead to a common baking mistake.
Method
Take a muslin cloth and place curd in it. Grab all the ends and tie a knot
Leave the cloth hanging so that the water from curd keeps dripping
Leave it overnight or for 7-8 hrs
Take out after the prescribed time and transfer the hung curd into a large bowl
Preheat the oven to 356°f or 180°c
Line a baking tray with butter paper
In another bowl mix all the spices mentioned in the list
Add ginger, green chillies and coriander leaves to the curd and mix well
Add the spice mixture to the curd and give it another good mix
Grind the sago in a blender until it is powdery
Add some powdered sago to the curd mixture as a  binding agent
Roll the curd mixture into small balls and flatten it and place it on powdered sago
Coat the curd with sago completely
Immerse it slightly in water so that the sago softens while baking
Place it on the lines baking tray
Bake it for 15 to 20 min at 180°c
This can be served with mint chutney or any other condiments you may like
Tips while making dahi ke kebab- the cheat sheet
Always make sure that the curd is kept for a minimum time of 7-8 hrs for all the water to ooze out.
While rolling into balls if the curd is sticky, place the curd on top of the powdered sago, roll it well and then flatten it.
Don't skip the step of immersing it in water otherwise the sago will remain hard.
Never pre-soak the sago as it will get batter-like consistency while grinding.
So what are you waiting for? Just get started and enjoy your navratri the healthy way, or should we call it the BAKING way!!
To see more fast-friendly recipes for this navratri: click here!