Truffle, Caramel and Paan- do try these flavours water your taste buds. Enjoy some simple chocolate recipes to be loved by kids of all ages!
Chocolate truffles have a unique space in our hearts, the way they burst into our mouths with an explosion of goodness, what could be a better feeling!
So here we are telling you all the secret tips and tricks of making chocolate truffles. By the way these also are a good way to keep those little monsters at work, what we mean is you can enjoy these while working with your kids.
Recipe #1 Classic Chocolate truffles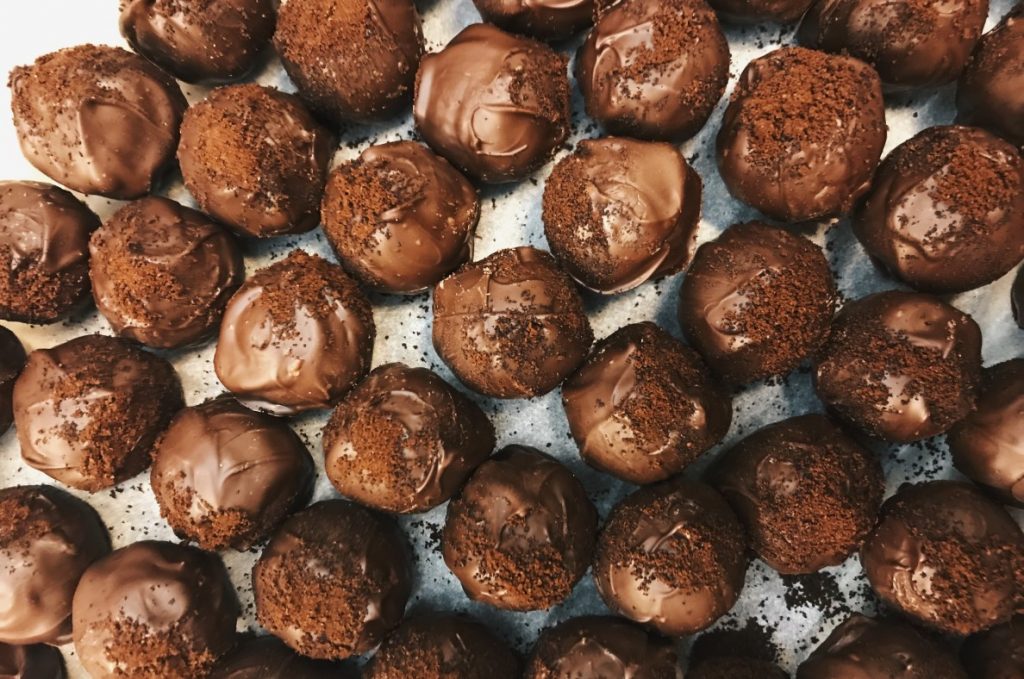 Serves: 45-50 chocolates of medium size
Cooking time: 15 mins
Ingredients:
For layering:
Milk chocolate compound  400g
Dark chocolate compound  200g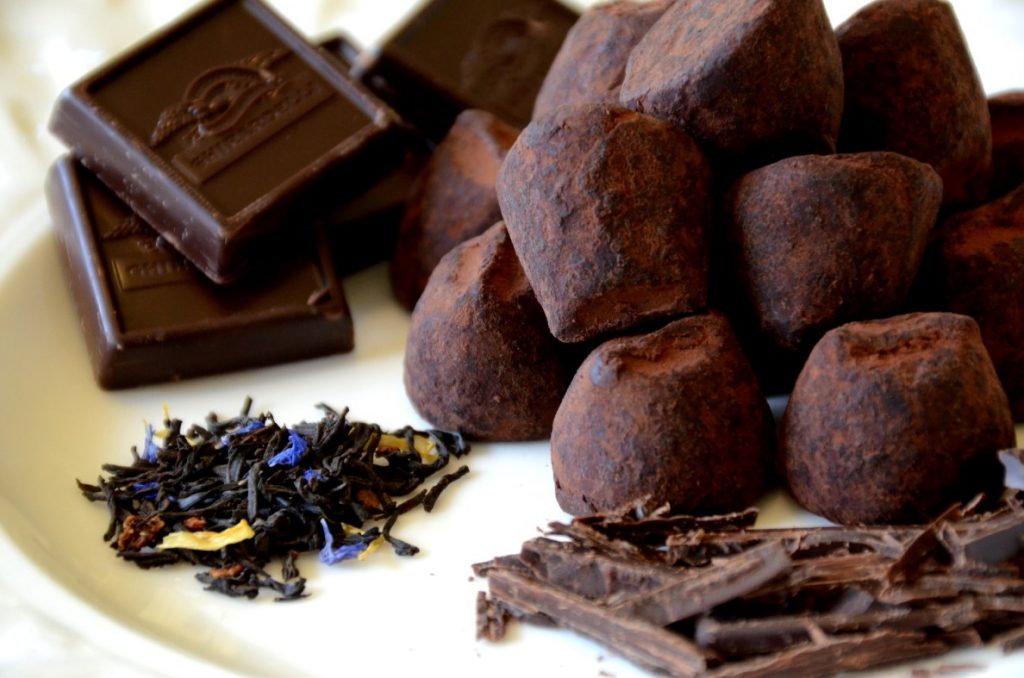 For truffle filling:
Dark chocolate compound 100g
Cream                                      15ml
Method (truffle):
Heat the cream to almost boiling temperature.
Add melted chocolate and mix.
You can add some butter for extra richness.
Make sure you follow the proportions right to avoid any mistakes
Method:
 Melt both the compounds for layering, on a double boiler or in a microwave and make sure there are no lumps left.
Fill the liquid in a piping bag, you could skip using a piping bag and use a spoon instead, but that would be a bit messy.
Fill the molds and wait for a few seconds till the chocolate sets to form a layer on the mold
Now turn over the mold, and let all the extra chocolate drip off. Tap on the top to drain any left.
Scrape out the drip marks and let it set for a second or two.
Add the prepared chocolate truffle, and lightly tap for it to spread evenly.
Fill in the chocolate till the top, tap gently and again scrape out the excess.
Put it in the freezer for 5-10 minutes and tadaaa! Your chocolate truffles are ready.
Now these were some plain chocolate truffles. You can modify them according to your preferences.
Add coffee to the truffle filling to make coffee truffles. These taste better when layered with white chocolate instead of milk.
Salted truffles can also be prepared in a similar manner, by either adding salt to truffles or to the base before the first layering.
Things to keep in mind:
While layering with milk compound, make sure to mix half dark, else it'll end up being too sweet even for the sweet tooth. And stir them well to mix
Scraping is very important to ensure that the chocolate base is neat and plain.
Do not overheat the compound; it'll become hard and grainy in worst case scenarios.
White chocolate is of a bit different consistency. Its melting takes longer time though it is thinner as compared to milk and dark chocolate.
Recipe #2 Caramel Chocolates
Moving on, lets come over to caramel chocolates.
Caramel is one of the most beloved flavors by kids' , which is why we do not want to miss any chance to surprise them with these yummy caramel chocolates. You may try having kids around while working on these yummy treats, but do keep in mind some basic dos and don'ts with kids around
Now, unlike truffles, caramel chocolates as the name suggests, is filled with caramel sauce. Many mistake caramel sauce with caramel, however, there's a difference between caramel and caramel sauce.
Caramel sauce is made by adding cream and butter to caramel; it doesn't become hard like a rock on being kept at rest. Whereas, caramel is made from only sugar, it hardens when kept on rest. If caramel is filled, it'll become hard as rock, and your teeth… umm no comments.
So, lets begin with these loved by all kids favorites.
Caramel chocolates:
Serves: 45-50 chocolates of medium size
Cooking time: 15mins
Ingredients:
For layering:
Milk chocolate compound  400g
Dark chocolate compound  200g
Caramel sauce:
Sugar 50 gms
Butter 5gms
Cream 10ml
Method:
    Caramel sauce
Heat sugar in a pan, keep stirring until it melts.
Take it off the flame, add warm cream to it, stir vigorously  and put back on the flame
Keep stirring until its the consistency is similar to that of a sauce.
Add butter for some shine, and turn off the flame.
You could keep it at room temperature for half a minute or so to get a thicker consistency.
The method of making chocolates stays the same, layer, fill, and seal.
Cheat codes: (thank us later)
Make sure you add some warm cream else the caramel would harden.
If in case it does harden, keep stirring at medium heat, and gradually it'll deform. However, it's a game of patience!
The caramel should be golden brown in color, do not burn it!
Do not pour freshly made caramel to fill in the chocolates. The heat in caramel sauce would melt the layered chocolate and in the end what you'll be getting would be an utter disaster!
Make sure your layers are thick enough to hold the caramel into it, else it'll ooze out of the chocolate and stick to the mould.
Now, after we've had kids' favorites, you too deserve a treat! After all, you've done a great job so far.. (we hope) Paan chocolates are one of the best flavors you would ever have.
Without much of delay, lets get to it!
#3 Paan chocolates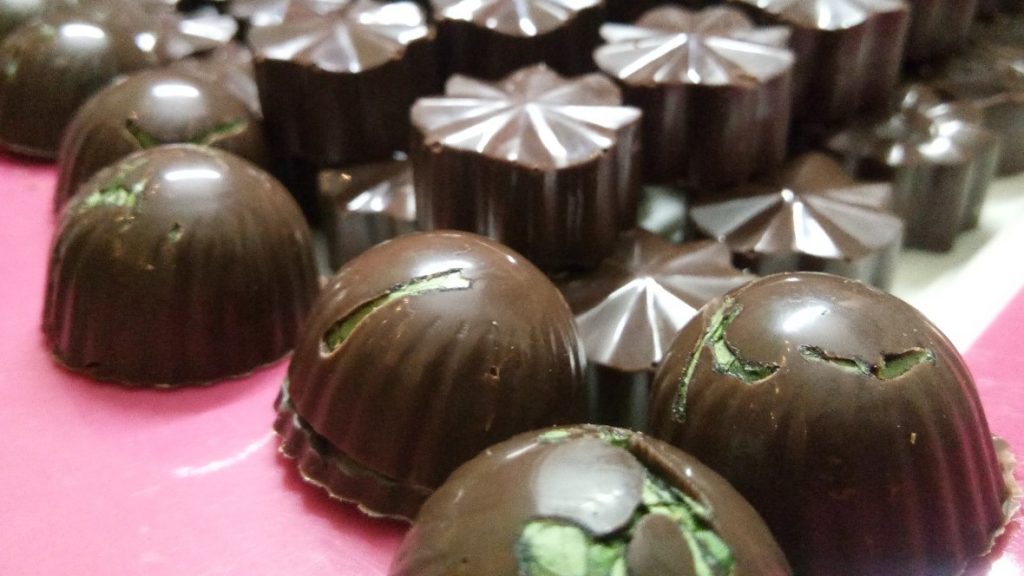 BakeHoney Trivia: paan is a digestive aid apart from being an amazing mouth freshener! Well, what is the English name for paan leaves?
Serves: 45-50 chocolates of medium size
Cooking time: 15 mins
Ingredients:
For layering:
Dark chocolate compound  400g
Paan leaves        1no.
For truffle filling:
Dark chocolate compound 100g
Cream                                      15ml
Gulkand                              10gms
Method:
Roll the paan leaf and shred it as finely as you can. Add these shreds to the molds.
Layer the molds with dark chocolate, let it set and empty.
Fill in the truffle filling, it should not be totally full, as we also need some space to add the second layer to it.
Add a tiny bit of gulkand to the filling, and seal it with dark chocolate.
Freeze for 5 to 10 minutes.
Do not add only gulkand to the filling. It would get really sweet.
Paan chocolates are suggested to be made with only dark chocolates. No! it won't make your chocolates bitter, gulkand in itself is enough to balance all the sweetness.
Feeling lazy but craving chocolates? Check out some of the best handmade chocolate collection available in Noida here!