Quick and easy Homemade Fudgy Brownies recipe with tips and some innovative flavors- a must try for all
Brownies are like one of the best creations of mankind. Some like it extra fudgy while some like it to be a bit cakey. Be it with nuts, dried cranberries, or just plain brownies, the best part is that all of us love them!
FRESHER, HEALTHIER, HYGIENIC
What if we say you could make them at home, healthier and pocket friendly! Healthier because you know the quality of ingredients you are using  and you could obviously make it personalized according to your preferences and tastes. These homemade brownies would be costing as less as half the price of those store bought ones, with all the freshness and extra self-appreciation.
Do you know the brownie that you are having from your favorite store could be as stale as a week and you wouldn't even be able to guess it! So why not go for something fresher, healthier and hygienic.
In case this is the first time you're attempting to bake, or not sure about how to go about baking, you check out our article on baking mistakes, it has most common baking mistakes that you might tend to commit.
PIECE OF ADVICE
The main flavor that resides in it is cocoa, and obviously if you're adding extras like walnuts or dried berries and all, these flavors would also be present in your brownie. So go for your preferences and customize these little treats as per you!
There.. We can already see you imagining and drooling over those crackly top of the brownies. Ever wondered what gives that perfect crackled top in the brownie? Sometimes its absence makes us feel lonely and disheartened after all the hard work and love put in the making. So, these crackly tops are a result of good egg beating, if you beat the eggs for a good minute, the top of your brownie would be nice and crackly. However, don't over-beat your eggs. All the best for what comes next.
There are many such tips and tricks at the end.
LETS GO!
For all the brownie lovers, here's a treat for you!
Prep Time: 10mins
Bake time: 20-25mins
Cooling time: 15-20mins
Ingredients
½ cup unsalted butter
1 tablespoon cooking oil
1 ½ cup caster sugar( granulated sugar also works)
2 large eggs
2 teaspoon vanilla extract½ cup all-purpose flour
½ cup unsweetened cocoa powder
¼ teaspoon salt
Instructions
Preheat oven to 175o Celsius. This step is crucial as it may result in one of the major and most common baking mistakes. Even after following all the steps, you miss this one; you might end up spoiling your homemade brownies.
Lightly grease an 8-inch square baking pan (this is the size we chose.. you could suite yourself) . line it with parchment paper
Mix melted butter, oil sugar together in a bowl. Whisk for about a minute.  Remember to make it fluffy so that brownie attains the desired consistency.
Add eggs and vanilla and beat until the batter is a bit lightened in color.
Sift in the dry ingredients which are: flour, cocoa powder and salt. Gently fold them and do not over mix! Sifting here is important to make the dry ingredients finely mixed into each other.
Pour the batter in the greased and lined pan.
Bake at 200-220o Celsius for about 20-25 minutes.  As these are fudgy brownies, the toothpick test would come out dirty. So, bake until the center sets and doesn't jiggle.
Allow to cool to room temperature and then cut in desired numbers and sizes.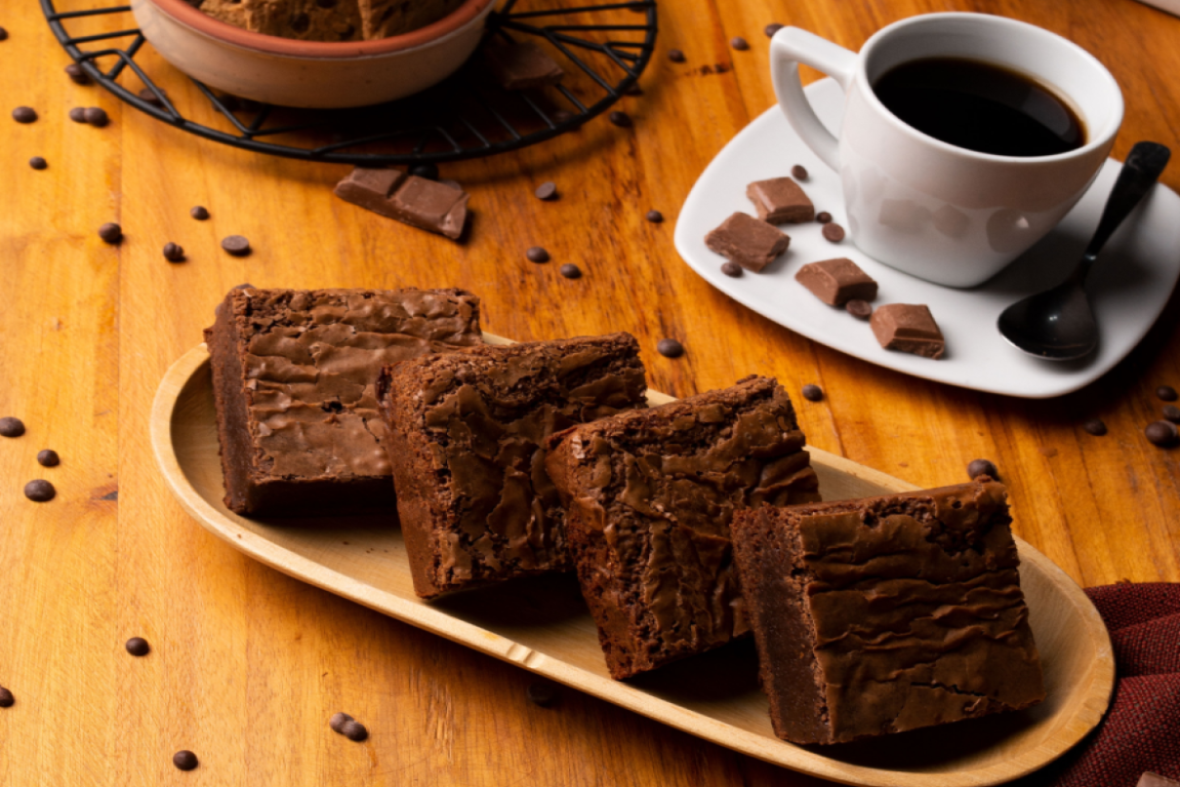 Interesting add-ons
You might want to add walnuts or any other types of nuts, or maybe chocolate chips or dried fruits such as cranberries. You could mix them or just top them after pouring the batter into pan. Go on, be creative!
In case you don't want to add egg, there are a whole lot of substitutes for it! Don't worry; we're here for you. Refer the substitutes for eggs and get your vegan bakes ready
Cheat sheet with important tips ahead:
Whisk butter and sugar really well. In case you want cakey brownies, you would like to consider this step. It helps in incorporating air into the butter and it becomes creamy. The sugar mixes well into the butter sweetening it evenly and the air pocket created help the batter to rise and less dense. Your call to add this step or not.
The temperature of eggs makes a difference! Eggs should always be at room temperature for making brownies.
Do not overbeat after adding in dry ingredients. By doing this, you'd rather make a cake than a brownie. And no, by this we don't mean it is fine in case of less fudgy brownies, it is not! It results in a drastic change in texture which isn't pleasant.
Do not over bake. Obviously, it'll be less dense but also would be having a burnt flavor. Brownies harden after cooling, so don't be in the fix of it being under-cooked and burn it to a rock. As mentioned, just when it stops jiggling in the center, its time to take them out.
Don't dive into this freshly baked hot heaven. Yes it is uncontrollable and after all this time and effort you just want to straight away start digging into it. However, patience is the key to a good bake experience, so never dig into a hot bake. It takes time for the product to adjust to room temperature gain its shape.
For our totally impatient audience, here's a quick tip: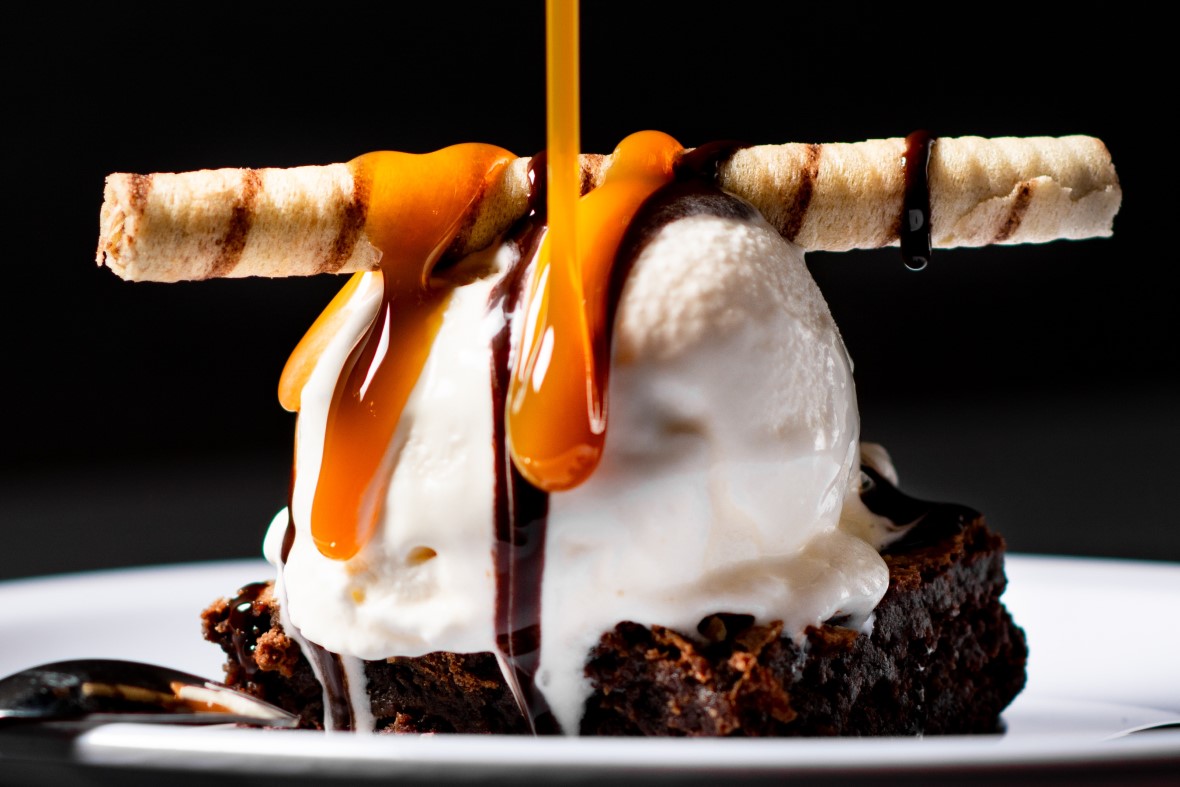 Right after the oven, giving an ice bath to the baking tray, in a very shallow pan would immediately stop the baking process and it would take lesser time to cool and come to room temp. 
Do try out this recipe; it's easy and worth a try! And… who doesn't love brownies! So for the love of fudgy brownies, go ahead!